We help you design any Carport you want.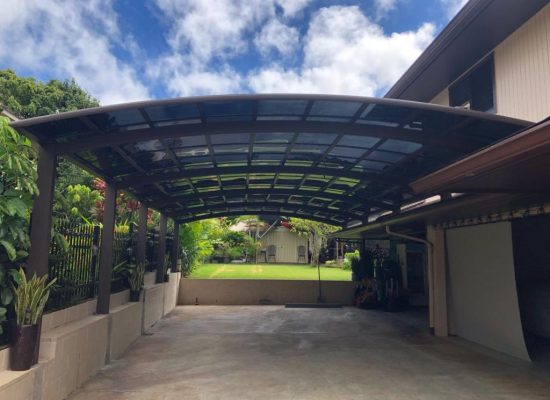 Carports Hawaii can be customized according to all of your needs and wants. We offer only the best carports made of high-quality, long lasting, Aluminum. Once installed, our carports can be used for years to come. 
Carports Hawaii provides modern and robust architecture that provides impact resistance in cases of outdoor accidents.  Our products are made from high- quality Aluminum and let you enjoy the outdoors while offering reprieve from the scorching heat.
Our Carports are made out of High Strength Aluminum Alloy 6063-T5. The Aluminum surface finish is created by powder coating, electrophoresis, or anodizing. 
Roof panels are made of the Polycarbonate panels 2mm thick, which have a 99% UVA/UVB resistance and Heat resistance up to 60%.

Carport
FULLY INSTALLED
Site Inspection
Installation Included
All Hawaiian Islands
Final price will be based upon site Inspection $40.00 sq. ft. on structures larger than 200sq. ft. and min $50.00 sq. ft. for structures under 200sq. ft.
**Above prices for Island of Oahu only,
***Servicing All Hawaiian Islands. Additional fees apply.
Please click on the tabs below to follow our configuration tool step by step
The first step is to estimate the size of your structure, it needs to suit your requirements and to be within your budget. You pay per square foot.
We custom build everything, with couple of different styles availableyou need to determine which style will complement your house the most.
The tint options to choose from are the following.

1-Dark gray
2-Smoke gray
3-Transparent

All of the colors provide the same 98% UVA/UVB protection.
Based off of the structures different installation options may be necessary. There are free standing structures, house attached and wall attached options available. Most of those aspects will be known after the site assessment. Some solutions may require additional installation fees.
Your structure cost depends of the square footage and some installation options. You can estimate your price based off of our price chart. The final price will be disclosed after the site assessment.