single aluminiuam carport
The most popular and affordable carport we provide is a Single Aluminum Carport.
This free-standing carport can be placed away from the house or set as an attachment to an existing structure.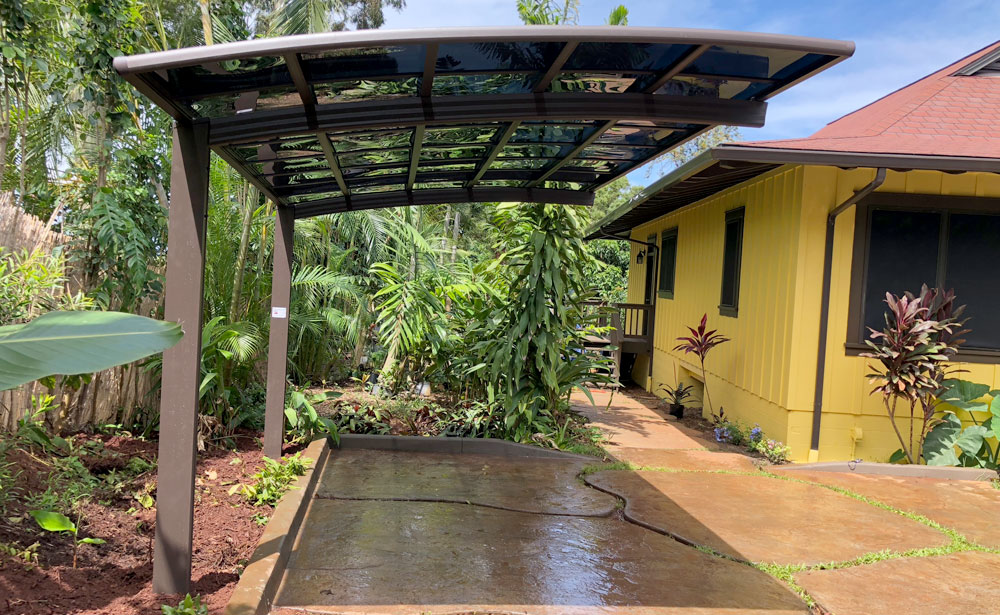 The unparalleled benefits of this unit include the cost and installation time. In many cases, this can be installed in a short amount of time.
These structures are generally available on the stack and do not have an extra shipping cost associated with your purchase in Oahu. Additional Shipping will apply to other Islands.
The original size of this unit is 18 feet long by the 10 feet wide, with the height adjustable from 6 to 12 feet.
A single Aluminum carport is made out of High Strength Aluminum Alloy 6063-T5.  The Aluminum surface finish is created by powder coating, electrophoresis, or anodizing. 

Single Aluminum Carport
FULLY INSTALLED
Site Inspection
Installation Included
All Hawaiian Islands
Final price will be based upon Site Inspection $40.00 sq. ft. on Structures larger than 200sq. ft. and min $50.00 sq. ft. for Structures under 200sq. ft.
**Above prices for Island of Oahu only,
***Servicing All Hawaiian Islands. Additional fees apply.
Please click on the tabs below to follow our configuration tool step by step
The first step is to estimate the size of your structure, it needs to suit your requirements and to be within your budget. You pay per square foot.
We custom build everything, with couple of different styles availableyou need to determine which style will complement your house the most.
The tint options to choose from are the following.

1-Dark gray
2-Smoke gray
3-Transparent

All of the colors provide the same 98% UVA/UVB protection.
Based off of the structures different installation options may be necessary. There are free standing structures, house attached and wall attached options available. Most of those aspects will be known after the site assessment. Some solutions may require additional installation fees.
Your structure cost depends of the square footage and some installation options. You can estimate your price based off of our price chart. The final price will be disclosed after the site assessment.